Services
GENERAL CONTRACTING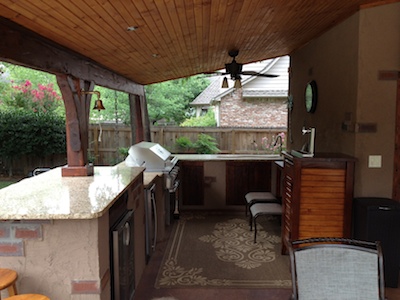 When investing your hard earned dollars into a home project it's crucial that you start with a well thought out plan. This will ensure that the end product is what you have envisioned from the start. At Green Country Outdoor Living LLC we listen to your thoughts, ideas, dreams and desires, to craft your personalized design to deliver the end product that surpasses your expectations. From initial consultation, site survey, design process, budget requirements are taken into consideration so that nothing is missed. For all the licensed trades such as electrical, plumbing and roofing, Green Country Outdoor Living uses only quality craftsmen in the business for quality longevity and safety of every project. Call the professionals at Green Country Outdoor Living for your consultation today.
BRICK & STONE MASONRY
There is a big difference between a mason and stone artisans. At Green Country Outdoor Living we use the very best stone craftsmen to create exemplary outdoor living areas custom designed for your family enjoyment. Whether contemporary, or old world graceful arches, stone and brick add wonderful details to your new outdoor living spaces. Check out our photo sections for ideas and call us today to get started designing your back yard oasis today.
WOOD BURNING OVENS
For the worlds finest wood burning ovens available call Green Country Outdoor Living. We will install your custom designed Forno Bravo wood burning oven for years of cooking enjoyment. If you enjoy cooking you will love preparing a delicious meal in your Forno Bravo wood burning oven. If you have never had a meal prepared in a wood oven then you don't know what you are missing. From small residential portable to large scale commercial we simply supply the very best wood ovens available, Forno Bravo. Whether cooking a simple margarita pizza or roasting a full meal in your new wood oven you will enjoy the wood infused flavor you can only get with a Forno Bravo wood oven. Yes, they are not just for cooking pizzas. You can roast anything in your new wood fired oven, beef, pork, duck, poultry, carrots, onions and potatoes. All infused with your choice of wood flavors. Hickory, Pecan, Oak, Apple wood, All add unique flavor signatures to your meal. Be sure to try our flavorful recipes.
GRILLING ISLANDS, OUTDOOR KITCHENS
Spring is here, time to grill out! Whether you prefer charcoal or gas let Green Country Outdoor Living design your luxurious outdoor kitchen today. Call to schedule a consultation today to start designing your outdoor grilling area or full scale gourmet grilling kitchen. It all starts with a well thought out plan so the project flows well and is enjoyable, functional and stunning to look at. Call now to get started today.
WATERPROOF CABINETS
For years we have built outdoor kitchen cabinets using masonry block, stone, brick and stucco with stainless steel cabinet doors and drawers. NOW! Green Country Outdoor Living now provides full line of 100% waterproof cabinets that offer the look of indoor wood cabinets for the outdoors. Made from high density resin technology we carry cabinets panels trim and more to finish out any outdoor project. They are extremely high quality product, stunningly beautiful and durable for outdoor applications that will last a lifetime. Check out our photo gallery on waterproof cabinets and call us today to schedule your appointment to begin designing your outdoor living area.
COVERED PATIOS, FREESTANDING PAVILIONS, PERGOLAS
When you need more room on your patio call Green Country Outdoor Living to design and build or extend your covered patio or add an open air pergola for and extra architectural detail to your out door living area. You will love coming home to your new outdoor oasis custom build for you and your family. We will make it look as if it were an original part of the house. For a separate outdoor living space nothing beats the look and feel of a freestanding pavilion with cedar beams and unique decorative architectural details.
FIREPLACES, FIRE PITS
On those cool evening nothing compares to unwinding in front of your own outdoor masonry fireplace. The design options are limitless to shape and style of your fireplace. Natural stone, brick, stucco and any combination. All can be used to create unique decorative and functional fireplaces to enjoy the warmth and glow they provide. Check out our photos of fireplaces and fire pits to get ideas and call to start the design process today. For centuries Americans prepared their everyday meals using their home fireplace. We can install decorative or primitive solid iron cranes that swing into the fire box for cooking on dutch ovens over the coals. Fire pits also have a definite spot in the outdoor living arena. Round, square , or some other shape. Classic, contemporary or whimsical, the options are endless.